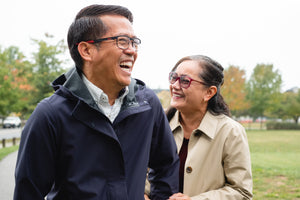 Get to know your loved ones like never before 😇

It's "grandma meets podcast", but better.

We ask awesome questions about your life. You record your answers in audio. We stitch all answers together into a beautiful life story. All through the magic of our software called Audiobiography 🪄.

No subscriptions or ongoing fees.

Here's how it works.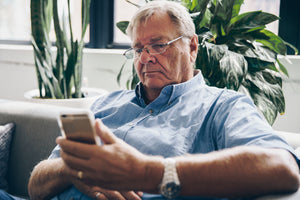 Step 1: click the link
Place your order and check your email. You'll see a link to get started. There's no app to install and the link never expires. Simply click to get started yourself, or send the link to someone you love. It's easy. You got this! We pull you through setup, step by step, easy as can be.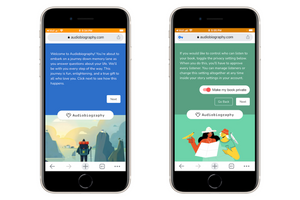 Step 2: Walk through setup
There's no app to install. Once you click the link, we walk you through easy steps to get you recording inside your story space.
You can open Audiobiography anytime, on any device worldwide that is connected to the internet. You can wander from your phone to computer to tablet, etc. no problem at all.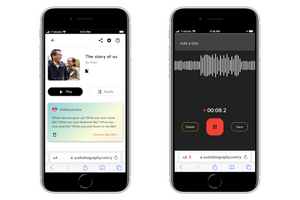 Step 3: Swipe through interview questions 👆
Swipe through questions and answer in your own voice! Answer them all, or explore the ones you're most interested in. Get rid of the questions you don't like. Keep the ones you do. Add entirely new ones. Our default questions put you on memory lane, but there are no limits whatsoever. An Audiobiography can be two hours, or twenty hours long, and you can add up to ten pictures per quesiton.
See our questions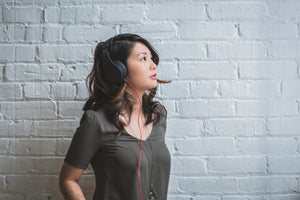 Step 4: Listen and Share ❤️
All recordings are automatically compiled into a seamless listening experience, just like a podcast which you can make private or public. You can play all individual recordings in order, or shuffle. Easily share with anyone worldwide via text, email, social media.
Our promise: you will learn things you never knew, and grow closer to those you love the most.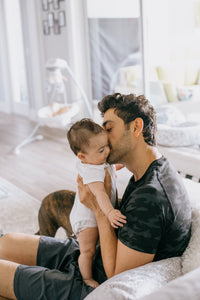 Step 5: Love and peace of mind 🙏
We store and playback your Audiobiography forever. No subscriptions or ongoing fees.
You can also download the entire story at any time and upload it to other genealogical platforms. It downloads complete with all questions, recordings, and pictures.
You can have peace of mind that the story of someone you love is captured and available forever so future generations can get to know their family in ways they never would have before.
Imagine having a 500 page written biography of your great grandmother whom you've never met. You could read about her and learn a lot. Now imagine having even one minute of recorded audio in her own voice. You'll feel more connected to her through one minute of audio, than a lifetime of reading. Audio is powerful and it is connecting generations like never before.
Buy Audiobiography
Buy Audiobiography Today
We'll send everything you need to start, via email.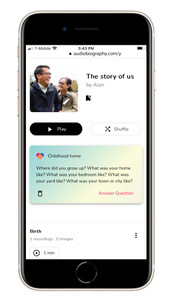 Frequently Asked Questions
I'm giving this as a gift. How do I deliver it?

Immediately after checkout you'll receive an email, separate from your receipt, that says "Your Audiobiography is Inside". If you don't see it in your inbox, check your promotions or spam folder. That email contains the unique link the Audiobiography you'll be gifting. Click on the link to see the start page. Don't worry, this doesn't actually claim the Audiobiography. Inside you'll see option to either print a physical card to give to your loved one, or share the link digitally. You can also always simply forward the same email that you received. 🚀 To get started, your loved one will either use their phone camera to scan the physical card you give them, or click on the link you send them. They can use any device.


What happens when I order more than one?

When you order more than one, we send a separate email for each one. Each email contains a unique link to a new Audiobiography. Look for emails with the subject "Your Audiobiography is Inside".


Are there instructions?

Yes! Click "How it Works" at the top of this page, or click "Audiobiography User Instructions" in the footer of any page.


Can I get this for myself?

Of course! Many users buy Audiobiography for themselves. It's the best gift a person can be given, and it's the best gift a person can give.


Can recordings be deleted and re-recorded?

Yes. You can delete and re-record as much as you'd like.


Do you send reminder questions via email?

Yes. All questions are available from day one, and it's easy to get sucked in. You can always work at your own pace. But yes, we've found that periodic reminders via email helps storytellers stay on track. Just remember, there are no time limitations whatsoever. You can add to it the rest of your life, just like a living journal.


Where is the audio stored?

In the cloud. We use the Google Cloud Platform. All audio is saved and played back from the cloud so it takes up no room on your device and can be done from anywhere in the world. You can download a backup of your entire audio story, including all photos added along the way, at any time from inside your account.


Can I backup the story?

Yes. Click the gear icon within the story inside your account, then click "download". All audio recordings are downloaded neatly into their own folders, along with all associated pictures. The whole process is clean and tidy, and we recommend backing up your story as often as you'd like.


How soon after purchasing will I receive the email with the unique link and instructions to start?

Immediately. Check your spam or promotions folder if you don't see it right away. Look for the subject line "Your Audiobiography is Inside". Reach out to us at support@audiobiography.com for a fast response if you are experiencing any issues.


I've heard the audio version of the story is like a podcast?

Yes. Imagine a podcast that can be set to public (meaning anyone can listen) or private (meaning only those you allow can listen). When stories are recorded they live digitally for free on the Audiobiography.com platform. It's accessible worldwide to any connected device, no app required. Just tap play (or shuffle) and listen to the entire story of someone you love on autoplay.
___________________________
That's it from us. We're hoping to change the world (a little) one story at a time. Thanks for spending some time with us!